Favorite finds from the past week:
Etsy find of the week: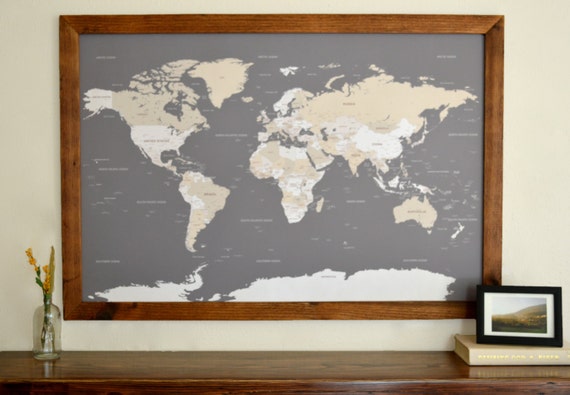 I love this map. They also customize them and give you push pins to start your first pins. I have always wanted a map to outline everywhere I have been. While I haven't been to a lot of places (and none overseas) I have great plans to start within the next couple years (I've already started saving for a trip to Ireland that I haven been wanting to do for ages). Where have you been that is an absolute must see? Or dream of going??
Please can I move in?
I absolutely love this room.
Get in my belly!
A very big - yes, please!
Tee shirt Sweater of the week:
I am so in love with this sweater, but you will never catch me paying $350 for any piece of clothing..
So Christmas has come and gone. It's so crazy because it didn't really feel like Christmas to me this year. The day just came and went and another Christmas behind us. 2014 is fast approaching. I cannot believe a year has past. I also cannot believe I am coming up on two years of having this blog. It's insane how fast time flies by. So many things have happened over the past two years since I started sharing my thoughts with you all. I will have to come up with a good anniversary post and a good New Years goals post.
We had planned on going out to Massachusetts this weekend, but I believe our plans have changed and we will stay home instead. If its nice we get to go play disk golf, I'm really excited because the mister got me a new disk that I've been wanted to try out. Do I sound like a complete nerd?! He used to go and play and I always thought it was this dorky thing to do and I never went with him. Then on a whim a few months ago he asked me to go and its so much fun. I can't believe how much I actually like it. I now actually have three of my own disks and am throwing it further and further each time. Now that its winter it will be few and far between when we get to go - but this weekend its supposed to be in the 40's and sunny - so as long as some of the snow melts away we should be okay to play.
Have you ever played? Don't judge until you try - because believe me it's a lot more fun than you think it would be!
Have a great weekend everyone!