Another semi local to me gal, we are headed an hour and a half west of me to Rochester NY...

Age: 25
Occupation: Designer
Tell us a little about yourself.
Open ended questions like this scare me! I'm an artist, I guess, but I'm more of a creative that doesn't want to be pidgeon-holed into one niche. I'm more than one question, so maybe the next few will help you figure it out. :P

When did you start creating and how long have you been on Etsy?
I've always been creating, but I've been doing it on Etsy since May of 2011.

How did you come up with your business name, is there any special meaning behind it?
Well, it's been my twitter handle for a few many years, but it's a sort of cheeky way to say "I'm soooooo indie." It's a mix of over-the-top-pretentiousness with some self-awareness tossed in.

Has your Etsy shop become your full time job? If not, would you like it to be?
It has! I actually started listing on Etsy the day I quit my day job. I jumped right in, and I haven't looked back since. I've always made at least "part time" money, but as of the past six months I've been making more than I ever made at my previous day job.
This full-time gig also includes running Chickpea and hipsterfood and everything that goes with that - I found that you have to diversify your work to make a secure living. (And, it just makes the work that much more interesting.)
How would you describe your creative process?
It's a cyclical process, and very much relies on a tide of bare days and overworking myself. I can work five 16-hour days, then do nothing for two or three, and it really spurs my creativity and productivity level.

Where do you get your inspiration from?
By working on many things at once, I find that I get inspiration for example, for my Etsy shop, when I'm working in the kitchen on hipsterfood. Or I find a new way of photographing items for Etsy that I end up using in Chickpea. All of them are connected and self-replicate new content.
Once I get that inspiration, in this case for my Etsy shop, I usually go out to a coffee shop (or outside, in the summer) for a whole day and fill up a sketchbook. When I have an idea, I know exactly how I'm going to implement it. (This only comes after years of working on subpar things; it doesn't come overnight.) The sketches become products or ideas for custom orders, and what I've done turns into fuel for my other work. It's a cycle I've come to love!
Do you also sell your work at craft shows?
• What shows have you taken
part of, and do you have a
favorite?
I take part in mostly local shows, just because the cost of travel & lodging is SO great when it comes to talking about craft show profits. And besides, we have lots of great shows here! My favorite show I've done so far had to have been secondstorie. (Great people & energy, tons of customers.) A lot of shows are still jurying, but I know for sure I'll be a part of the Buffalo Small Press Book Fair in April.

• How long does it take you to prepare for a show? Do you have any special methods of getting ready?
Ha, this is a great question. I almost always do a "dry" setup of my booth before a show, just to see how my items have changed since my last show and make sure everything looks good. I usually wait until 1-2 days before the show to even start making product, and I stay up until 5AM finishing up, then I have to wake up at 7, load the car and set up, then sell for 8 hours. I don't know why I do it, but it ends up happening every time.
• Describe an experience from a show (good or bad) and why that pushes you to continue with your work
I love, love, love seeing previous customers buy more work, or tell me how much they love their purchase, months later. It means a lot to me that REAL LIFE people want, and love, what my mind puts out there. You just don't get that connection online, or if you do it's rare. But that's what kept me going through all of my slow months, for sure!

What is your most cherished handmade item?
I have a crocheted blanket my grandmother made for my mom before I was even born. I try to keep it in perfect condition and if it could make it through my college career, I'd say I'm doing a great job so far!

Apart from creating things, what do you like to do?
Creating is what I do with 90% of my time. In that 10%, I love being outside in the summer and watching sci-fi & playing very nerdy tabletop games in the winter. (I could go on a Star Trek Jeopardy, really!)

If you weren't an artist, what would you be and why?
It's hard to say, since I've known I wanted to be an artist for a very long time. I'd probably want to be an appraiser on Antiques Roadshow or something, I get very excited about the history of old things.

Five years from now you will be…
Hopefully, doing the same thing I'm doing now, except with more skill and knowledge. Also, I hope to be able to make bread without a recipe by then!

Describe yourself in five words:
food lover
Carrying on with the five theme, if I were to turn on your <insert whatever type of music player you use here>, what five artists/songs would I see on your recently played list?
'man in black' - johnny cash
'david j is a sickness' - andrew jackson jihad
'no friends' - adolescents
'la javanaise' - serge gainsbourg
'my mom' - kimya dawson (cry-worthy)

Lastly, do you have any advice for anyone thinking about opening their own shop or participating in craft shows?
Don't think you have to have everything together all at the beginning. Just do what you love, learn from others and your own mistakes, and over time, good things will happen
.
Cara would like to giveaway one reader a 12 month, 2013 seasonal wall calendar as well as the winter edition of Chickpea (I am so jealous of you guys!)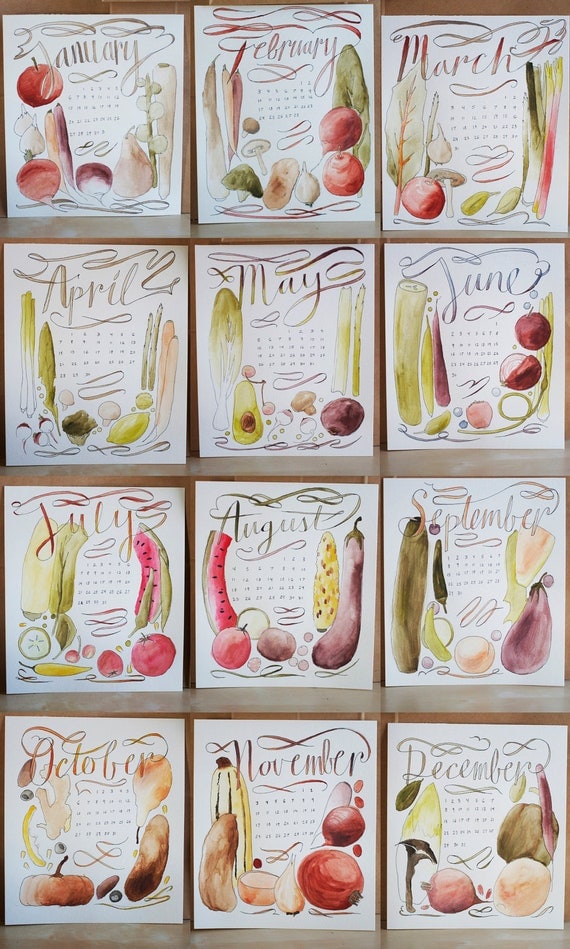 a Rafflecopter giveaway
Good Luck everyone! I've seen parts of the winter Chickpea edition and the photos alone are just simply amazing.
**Open to readers world-wide but you must be a GFC reader in order to be eligible for the giveaway. If you have entered and are not a GFC reader and win, I will redraw a winner. I'm sorry. So just make sure to be a reader/follower!**