Favorite finds from the past week
1. Etsy find of the week: Mini dachshund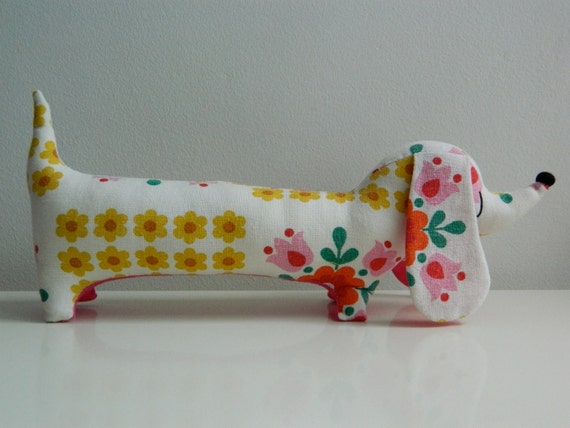 I have been in love with these little guys since I first found her shop months ago. But this one has been my favorite so far. Each one is different because she uses vintages fabrics. I love this little bugger!
2. Blog of the week:
This isn't a new to me blog, in fact it's probably one of the first blogs I started reading on a daily/weekly basis and it's one of my favorite. Karen over at
The Art of Doing Stuff
is definitely one of my favorite people. She is hilarious and tells wonky jokes. Her blog always makes me laugh or shake my head or both. A lot of the things she says and does, I have said and done. I've joked before that I could be her little sister. If you have never heard of her blog, and you like sarcasm and women doing their own work check her out, you won't be sorry.
3. Please can I move in?
I can not believe this is someone's tree fort. It's amazing and even comes with a slide to get down quickly. For me, this would be my home. It is so perfect and rustic. I would be in heaven if I could live in the middle of the woods, up in this fort. Who wouldn't love sliding down a slide every morning?!
4. Get in my belly:
I usually only drink water. But on special occasions I drink lemonade or on super special occasions Boylan's Black Cherry or Root Beer soda! (yum how I do love those as a treat!) Summer just makes me feel like I should be drinking lemonade every hot and steamy day, which lately that has been every day in these parts.. though I still haven't had any. Maybe at the Farmer's Market this weekend I'll get a special treat, they have an amazing lemonade stand there!
5. Tee-shirt of the week:
I love Johnny Cupcakes. I actually even wrote a final project for my marketing course on him. His story is so inspirational. He went from selling tee shirts out of the trunk of a car to owning multiple high end shops and being a millionaire. He is so down to earth and seems to just have such a happy, fun life.
Have a fabulous weekend. Anyone have any interesting plans?