Favorite finds from the last week:
1. Etsy find of the week: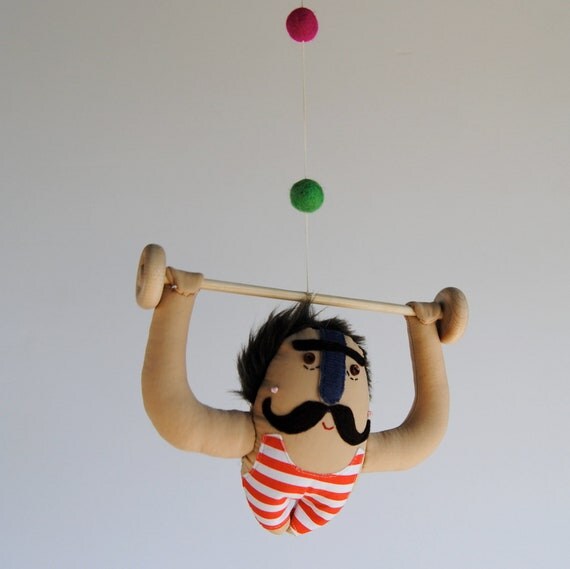 This shop has such amazingly adorable creations. Her shop was actually just a feature on Etsy and I loved reading her interview. I'm really happy to have found her shop, something I wouldn't have found otherwise. My sister and brother in law are trying to have a baby, and you can bet if/when they get pregnant one of these baby mobiles will be sent to them!
2. Blog of the week:
I came across
this blog
this past week actually through Beautiful Mess when they featured her kitchen makeover. We are currently back undergoing CRAZY renovations here (which I will be posting about next week!!) I love blogs that show before and after house renovations and project renovations. Her blog is full of them. I have now found a new daily read. Plus she is super cute and amazingly sweet. I suggest if you havent seen her blog - go now and check it out..
3. Please can I move in?
I want and need this house! Though I'd want it smack in the middle of a pine forest looking out onto an amazing lake. Then that, yes, that would be perfection and no one would ever see me again. Unless, of course, you came to visit me in my awesome house.
4. Get in my belly...
I'm not a huge chocolate fan, but boy..these look amazing. I've actually made very similar cookies last year at Christmas and they were so delicious. I may have to try her recipe and see if it varies from the ones I've made.
5. Tee shirt of the week from Ahpeele
I love this print on this shirt. The shirts also look high quality and really comfy. Have to love 100% cotton!
The weekend is finally upon us. It's been a long week. Work has been extremely busy and stressful, so what am I doing this weekend ..yes more work.. eight hours of it to be exact. I don't know why I do this to myself. But the extra money in my paycheck is definitely appreciated.
Other than work - I plan on baking (of course) and working on Christmas presents. I'm waiting on an order of soap ingredients so no soap making this weekend. I have a couple new scents I'm going to be trying out. But unfortunately they wont be available until after Christmas as they need 4 weeks to cure. But will definitely be in the shop prior to the new year. I actually made a new scent this past weekend- so that one will be available just before Christmas - it's creamsicle! It's awesome!
What's going on in your neck of the woods?